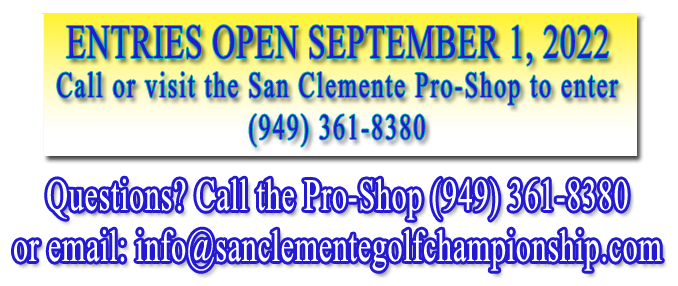 SPLIT TEE TIMES

---

Morning wave Hole #1 - 6:55am TO 8:55am
Morning wave Hole #10 - 7:00am TO 9:00am
---
Afternoon Wave: #1 - 11:55am to 12:55pm
Afternoon Wave: - #10 12:10pm to 1:00pm
---
---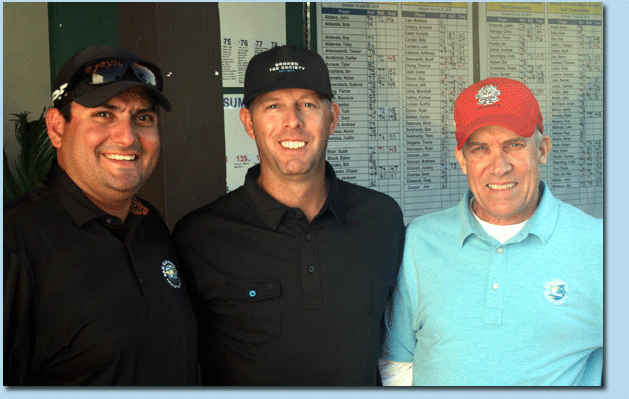 Left: Head Pro and Co-Tournament Director, Vinnie Poncino,
Middle: 2019 San Clemente Men's Amateur Golf Champion, Mark Warman,
Right: Teaching Pro and Co-Tournament Director, Dave Beatty
---
Mark Warman successfully defended his 2018 championship with a stellar 11 under par 133. That makes Mark the winner of the last 3 of 4 City Men's Amateur Golf Championships. Second place went to Marshall Colby from Thousand Oaks at 9 under 135. It was not an easy day for Mark. He had a clean slate for both days until the back 9 Sunday when he bogied #11, 13 and 14 to fall one back of Marshall. Mark then birdied 16 to even it up. On #17 Mark drove into the first fairway bunker and from there stuck it about 4 feet above the hole. He had to make a hard breaking putt for birdie, while Marshall made his only bogie of the weekend. That pretty much sealed the win for Mark as both competitors pared the 18th hole.
Alex Hanz from Fullerton won the Junior Flight and finished T4 in the overall with a 5 under 139. Dave Slingsby of Lake Forest took the Senior Flight at 151.
The scores were a little higher this year; the cut was 77. The course was in good shape and the weather was sunny, warm and not too windy which made for fine playing conditions.
See you next year.
---
Full Field Scores
Pos.
Player
R1
R2
Total Score
Scrip
1
Mark Warman
65
68
133
$750.00
2
Marshall Colby
67
68
135
$525.00
3
Jake Marek
70
67
137
$450.00
T4
Alex Hanz
67
72
139
$388.00
T4
Connor Obrien
69
70
139
$388.00
6
Forbes Collins
73
67
140
$340.00
T7
Guy Clauss
69
72
141
$260.00
T7
Scotland Schmidt
69
72
141
$260.00
T7
Thomas Lehman
72
69
141
$260.00
T10
Ryan Voois
70
72
142
$160.00
T10
Nathan Park
74
68
142
$160.00
T10
Ryan Pham
72
70
142
$160.00
T10
Tongun Lako Losarah
70
72
142
$160.00
T14
Cody Gascoigne
71
72
143
$82.00
T14
Scott Blair
72
71
143
$82.00
T14
Thomas Chung
70
73
143
$82.00
T18
Alex Sylvan
72
72
144
$60.00
T18
David Strang
69
75
144
$60.00
T18
Justin Polk
71
73
144
$60.00
Senior Champion
Dave Slingsby 151 $150.00
Junior Champion
Alex Hanz 139 $150.00
T21
Erick Liscio
72
73
145
T21
Jeremy Driscoll
72
73
145
T21
Roy Kim
73
72
145
T21
Shawn Venison
74
71
145
T25
John Adams
74
72
146
T25
Price Ferchill
76
70
146
T25
Tommy Lutton
74
72
146
T25
Jin Han Park
70
76
146
T29
Billy Candler
75
72
147
T29
Chase Bosanko
73
74
147
T29
Chase Goetschel
74
73
147
T29
Jeff Coburn
74
73
147
T29
Justin Edwards
75
72
147
T29
Chris Rendler
74
73
147
T29
Colin Olberding
73
74
147
T29
Nicholas Pham
74
73
147
T37
Gary Barker
74
74
148
T37
Kotaro Noda
74
74
148
T37
John Mahler
77
71
148
T37
Ryan Mendez
73
75
148
T37
Yuki Bannai
76
72
148
T37
Zander Grant
72
76
148
T43
Gabriel Armendariz
75
74
149
T43
John Phillips
76
73
149
T43
Nick Thomas
76
73
149
T46
Ashton Roberts
76
74
150
T46
Matt Wezniak
76
74
150
T48
Jake Martin
75
76
151
T48
Mark Sider
75
76
151
T48
Sheldon Ryan
76
75
151
T48
Dave Slingsby
74
77
151
T48
Steven Lusk
74
77
151
T53
Ian Arcellana
75
77
152
T53
Theo Delehanty
75
77
152
T53
Paul Sun
75
77
152
T56
Aaron Lee
77
76
153
T56
Chase Ora
76
77
153
T56
Curtis Cooper
75
78
153
T56
Eric Streelman
77
76
153
T56
Gregory Williams
75
78
153
T56
Hisham Hussein
75
78
153
T56
Justin Benosa
77
76
153
T56
Pete Griffith
76
77
153
T64
Jay Montoya
75
79
154
T64
Kirk Rose
76
78
154
T64
Lou Carrasco
76
78
154
T64
Rick Talt
75
79
154
T64
Scott Chenoweth
73
81
154
T64
Daniel Shin
74
80
154
T70
Cole Phipps
73
82
155
T70
Anthony Catalano
77
78
155
72
Jonathan Weir
76
80
156
73
Jackson Bragg
77
80
157
T74
Andy Wood
77
81
158
T74
Josh Uhler
75
83
158
76
Chris Eldridge
77
82
159
T77
Grant Nutt
76
84
160
T77
Humble Caleb
77
83
160
79
Nolan Arenado
77
84
161
80
Errol Hughes
77
86
163
81
Ryan Curlee
76
89
165
DQ
Carter Anderson
71
72
143
WD
Chase Wilson
71
WD
WD
NS
Kyle Weiner
76
NS
NS